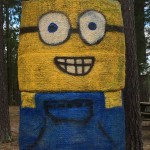 We have alot of fun scheduled for November and December..1st – On November 21 – the Level Green riding school in Powhatan will host an open event for all riders interested in Dressage, Stadium and Cross Country competition.  Riders can speak to Mrs Sue about renting a horse and competing.  Anyone interested in watching – visit the level green web site to get directions.
December 5th will be the Christmas Parade in Amelia.  All Students of the Cranberry Acres are invited to participate in both the preparation and the Parade itself.  The parade will be at 4:00 on Saturday afternoon.  Our Prep Meeting will Be Wednesday evening December 2nd at 6ish – Cranberry Acres will provide the PIZZA and Soda.
December 11th is the Scheduled Date for the Kellys Ford Banquet – more info as we get it.
December 12 – the FIRST Hazelwild Jumper competition – Saturday – cost and details will be posted both in the lounge and on a page on this site.
December 27 – SUNDAY HAZELWILD JUMPER COMPETITION – WE'LL HAVE A GET TOGETHER TO DISCUSS THIS AND OUR ATTENDENCE.