We were blessed with a hot but beautifully sunny day on Saturday to hold our final show of the 2018 – 2019 series.  We had a great turn out and the horses were at their best.
Champion in the Western Division for the day was Savannah Banton.  Reserve Champion for the day was Alexandra Cundiff.
Year end Champion for the Western Division was Alexandra Cundiff.  Reserve Year end Champion was Savannah Banton.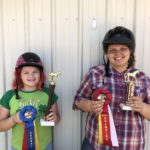 Champion in the Huntseat Division – Ammie Adams  Tie for Reserve Champion – Lauren Williams and Chessie Edens