School shows are open to All students, all ages and abilities.  We've designed the show to teach riders what is is like to compete on horseback.  Classes test skills and speed.  To enter the show:  read thru the classes, what each one expects of the rider and determine which ones you'd like to try.  Pick out the horse you know the best to compete on.(never pick one you haven't ridden before)  Use an entry form which will be in the office and sign up.  Try to sign up before the show(this helps me to plan), although you may sign up the day of the show.  Spectators are of course welcome – Please consider the weather and bring a chair and food and drink comforts.
  RIDERS attire is an optional subject…….   Hard shoes or boots and a helmet are mandatory –  Safety equipment.  Our feeling is not all riders may compete more than one time, therefore the judge is asked to forgo penalty.  Hunt seat attire is customarily conservative.  Black Helmet, Black Gloves, Black Boots – Under 12 – Paddock boots and Jodhpurs leg straps, Over 12 – Field boots.  Jodhpurs for 12 and under.  Western attire is jeans or show pants, western belt, cowboy, show shirt and your helmet  Cowboy hats are not safety equipment. 
Horsemanship and Equitation classes are Posture classes.  Riders compete against each other being judged on their form, as well as on their control of their horse at the gate desired by the judge.  Reining classes and Dressage classes are posted patterns that are judged on the horse and riders accuracy in performing the pattern with great horsemanship.  Gymkhana classes – Keyhole, Barrels and Flag Race are all speed classes. Roping and Goat Tying are Rodeo Classes seen in High School Rodeo  jumping classes can either be Judged  on Equitation or on Speed.
Rules of the show and Rules of entry: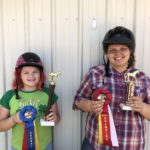 To be ready for your 9 am – 9:30class, Riders should arrive 15 minutes early to prepare.  All other riders can  arrive at 30 min before your scheduled time to sign up with Our Secretary.  Riders are asked to stay at the bleacher area until called to the barn for your class.  Once you complete your class, riders are asked to return to the spectator area.  This is for the safety of all in the barn.
Cost of showing – School group classes $12.00 a class.            $10.00 each for personally owned horse 
FALL 2023 HORSE SHOW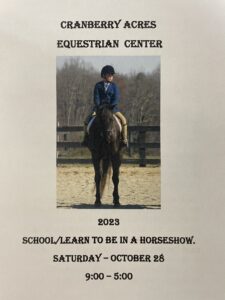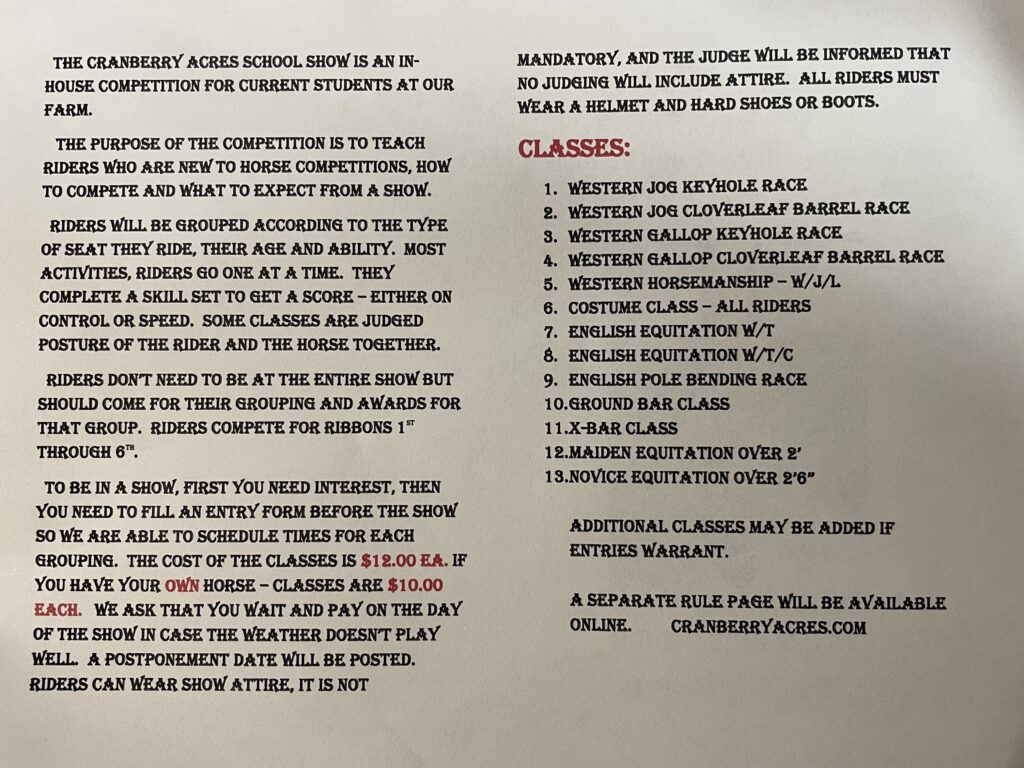 RULES:
  1   JOG RIDERS CAN BE ANY AGE NOT WISHING TO LOPE OR GALLOP THEIR RACE.  AS ENTRIES COME IN – I WILL BE ABLE TO SPLIT RIDERS INTO AGE GROUPS IS NECESSARY.  PEE WEE RIDERS 9 AND UNDER.  MAVERICKS 10-14.  OPEN RIDERS 15 AND OVER.
  2   GALLOP RIDERS CAN BE ANY AGE.  ENTRIES CAN BE SPLIT TO ACCOMMODATE MAVERICKS AND OPEN RIDERS.
  3   HORSEMANSHIP AND EQUITATION RIDERS ARE STUDENTS WHO COMPETE AGAINST EACH OTHER TO DETERMINE THE BEST POSTURE RIDERS.  RIDERS WILL BE JUDGED AT THE WALK, JOG, LOPE OR WALK, TROT, CANTER.
  4   THE COSTUME CLASS IS A FAVORITE OF OUR FALL SHOW.   RIDERS WILL BE GIVEN THE OPPORTUNITY TO DRESS UP THEMSELVES AND THEIR FAVORITE HORSE AND THEN A PHOTO SESSION OF COURSE.  RIDERS LEAD THEIR HORSE INFRONT OF THE JUDGE TO BE EXAMINED.  JUDGED ON EFFORT, INDIVIDUALLITY, OVERALL SHOW.  HORSES ARE SHARED AND BROUGHT IN ONE AT A TIME.  THIS EVENT WILL BE HELD IN THE INDOOR ARENA.
  5   JUMPING CLASSES WILL BE JUDGED PERFORMANCE/EQUITATION CLASSES
  6   ALL CLASSES WILL BE AWARDED RIBBONS – 1ST THROUGH 6TH PLACE.
  7   ALL PARKING WILL BE IN OUR FRONT FIELD – EXCEPT HANDICAPPED WILL USE OUR REGULAR PARKING..
  8   NO OUTSIDE DOGS ALLOWED PLEASE.
PLEASE PRE ENTER BY THE WEDNESDAY BEFORE THE SHOW.  ENTRY FORMS AND A COLLECTION BOX WILL BE AVAILABLE IN THE BARN OFFICE.
Riders may sign up using the comments box below on this page. Put Name – 2 horse choices – numbers of class choices. Please pay on the day of the show
Classes are $12.00 each when using a school horse, $10.00 each when using your own.   6 ribbons will be awarded for each class.