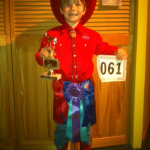 ENGLISH
SEPTEMBER 18                      OCTOBER 23                                                  APRIL – TBA                              MAY – TBA
WESTERN AND Beginner Rodeo 
SEPTEMBER 25                                OCTOBER 30  APRIL – TBA                                           May – TBA
 School shows are open to All students, all ages and abilities.  We've designed the show to teach riders what is is like to compete on horseback.  Classes test skills and speed.  To enter the show:  read thru the classes, what each one expects of the rider and determine which ones you'd like to try.  Pick out the horse you know the best to compete on.(never pick one you haven't ridden before)  Use an entry form which will be in the office and sign up.  Try to sign up before the show(this helps me to plan), although you may sign up the day of the show.  Spectators are of course welcome – Please consider the weather and bring a chair and food and drink comforts.
  RIDERS attire is an optional subject…….   Hard shoes or boots and a helmet are mandatory –  Safety equipment.  Our feeling is not all riders may compete more than one time, therefore the judge is asked to forgo penalty.  Hunt seat attire is customarily conservative.  Black Helmet, Black Gloves, Black Boots – Under 12 – Paddock boots and Jodhpurs leg straps, Over 12 – Field boots.  Jodhpurs for 12 and under or more petite adults.  Britches, Belts, Rat catcher (english shirt)  Hunt coat.  Western attire – cowboy boots, Jeans, Western style shirt, Bo lo tie or neck scarf, Helmet ( there is a nicely made western style helmet on line but a all purpose helmet is suitable)
6 ribbons are awarded in each class.  Points are awarded with each ribbon.  1st – 7pts, 2nd – 5pts, 3rd – 4pts, 4th – 3pts, 5th – 2pts, 6th – 1 pt. The rider of the Jr/Sr  Western division/English division who has the most points will receive a championship Trophy.  Points will be saved from Show to show, the Riders accumulating the most points over the 2021-2022 series will receive a High point Championship Trophy and a $75.00 Gift Card to Schneider saddlery.
Horsemanship and Equitation classes are Posture classes.  Riders compete against each other being judged on their form, as well as on their control of their horse at the gate desired by the judge.  Reining classes are posted patterns that are judged on the horse and riders accuracy in performing the pattern with great horsemanship.  Gymkhana classes – Keyhole, Barrels and Flag Race are all speed classes. English pattern class.
To be ready for your 9 am class, Riders should arrive 15 minutes early to prepare.  All other riders can arrive at 9 to sign up with Mrs Sandy.  Riders are asked to stay at the bleacher area until called to the barn for your class.  Once you complete your class, riders are asked to return to the spectator area.  This is for the safety of all in the barn
2021 – 2022 Classes:
Cost of showing – School group classes $12.00 a class.             Open classes $10.00 each for personally owned horses  school horses – class cost &$5.00 rental fee per class    Only 1 rider per horse per class  
1 person eligible per horse,  $5.00 added charge to lease your horse for the open classes. Open classes will host both riders on school horses and Competitors whom have already gone on to show off property, as well as non-students of the Cranberry Acres using their own horses.
PRESS ON THE LINK BELOW TO PRINT OUT A COPY OF OUR PROGRAM:
Show and Beginner Rodeo 2021-2022  
show program – PDF – http://cranberryacres.com/wp/wp-content/uploads/2021/10/2021-CA-western-school-show-and-Rodeo-FUN.pdf
English – Hunt Seat and Jumper:
show program – PDF –  http://cranberryacres.com/wp/wp-content/uploads/2021/10/2021-oct-English-show-series.pdfEnglish/Jumper 2021-2022
Points:   http://cranberryacres.com/wp/wp-content/uploads/2021/10/2021-2022-Huntseat-show-points.pdf
Please fill out a form in the office and submit it before the show to help me set up for the show day – Thank you
Classes are $12.00 each when using a school horse, $10.00 each when using your own.   6 ribbons will be awarded for each class.  
This show will be the first in a series of 3-4 shows with a high point champion and Reserve at the end of the series.  A western and English high point champion will be awarded at the end of each show Season.
W/T Pattern – Introductory Dressage Test:  Press here to get your copy:            intro a – Copy
W/T/C Pattern – Novice Level Dressage Test:  Press here to get your copy:            Novice_Test_A – Copy
W/Jog Pattern – reining –  Jog Reining
 W/J/Lope Pattern – Reining –

WE WILL NOT BE USING THE PROGRAM BELOW/ BUT WILL SAVE IT FOR A FUTURE DATE…..
2019-2020 Classes9:00
W/Trot English Pattern – pattern posted in the lounge, Also on cranberryacres.com
Open W/T/Canter Pattern – pattern posted in the lounge, Also on cranberryacres.com
Open W/T Equitation – Posture Class – 6 riders per grouping – 6 ribbons per class.
Open W/T Canter Equitation – – 6 ribbons awarded (posture class)
X-rails 12 and Under- Equitation – 8 Jumps on rail (posture class)
X-Rails 13 and over – Equitation – 8 Jumps on rail (posture class)
Maiden over Fences – 2′ fences – course of 8 jumps ( Posture)
Novice over Fences – Judged on pace and posture over course of Fences 2'6″
Limit Fences – Fences 2'9″
Stadium Jumper – Sand Ring – Courses Posted Day of show – Low – 2′ High – up to 3
Field Open Jumper – Speed class – Field next to ring – Courses Posted Day of show – Low – 2′ High – up to 3
Walk/jog reining – pattern posted in the lounge, Also on cranberryacres.com
Walk/jog/Lope reining – pattern posted in the lounge, Also on cranberryacres.com
Walk/jog Horsemanship – Posture Class – 6 riders per grouping – 6 ribbons per class.
Open W/J/Lope Horsemanship Posture Class – 6 riders per grouping – 6 ribbons per class.
W/Jog Speed Barrel Race – Penalty for loping
W/Jog Cloverleaf Barrel Race – Penalty for loping
Open Barrel Race – Gallop
Open Flag Race – Gallop
Open Flag Race – Gallop